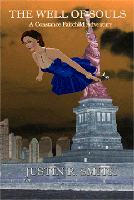 Revisiting the chaotic world of Constance Fairchild, Justin Smith opens his latest novel, "Angels, Twice Descending," with a dream sequence that foreshadows events to come, immediately pulling the reader into the adventures of the protagonist while using lyrical language full of symbolic imagery. Set in the not-too-distant future, the sequel to "The Mills of God" begins on Constance's 18th birthday. While attending a party in her honour at the headquarters of Horizon International — the family company she now heads - her secretary is murdered and she soon finds herself taking care of the woman's son, whom she later decides to adopt.
While Smith has written "Angels, Twice Descending" so that it can be enjoyed on its own, it is also a sequel and picks up where "The Mills of God" left off. Constance is now a university student, signing off on the many deals being made by the family company she inherited. She is still a poet and a believer in reincarnation, but in this volume she learns more about her past lives and the nature of the universe. She is guided on her spiritual journey by her adopted son, a four-year-old child with the wisdom of the ages. Because of the circumstances she finds herself in and all the responsibilities she has — as well as her old soul — it is sometimes hard to remember that Constance is only 18 years old. Smith adds just the right amount of balance to remind the reader of her chronological age in this incarnation. The character is strong but vulnerable, courageous and frightened. While she takes on horrific situations with grace and dignity, she is also human, becoming overwhelmed and responding from her gut. It is this balance that makes her so relatable even though her life is so extraordinary.
A stunning sequel, "Angels, Twice Descending" leaves the reader wondering what will happen next in the saga of the young heiress with the old soul. Smith will have his work cut out for him to top the intrigue and suspense laid out in the first two novels in this series. I, for one, can't wait to see the secrets he reveals about the nature of the universe.